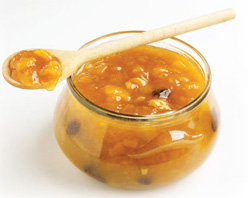 Ingredients:
6lbs. Beef Ribs
200grams Island Tropicks dried mango (soaked in water for 30min. to 1 hour) chopped in cubes.
¼ C water
1 jalapeno
¼ C ketchup
¼ C Tequila
¼ C freshly squeezed lime juice
2 T oyster sauce
2 T honey
6 cloves garlic, finely minced
¼ C finely minced ginger
¼ C chopped cilantro sprigs
Directions:
Combine the chopped mango with jalapeno in a blender. Blend. Transfer mixture to a bowl and combine with the ketchup, tequila, lime juice, oyster sauce, honey, garlic, ginger and cilantro.
Marinade the ribs on both sides with half the marinade. Leave the marinated beef overnight. Grill the ribs in charcoal or wood and baste with the extra marinade, serve when reached to desired doneness.