Amley Food Corporation was established in year 2003. It is located in Villanueva, Misamis Oriental.
Our mission is to become one of the major players in the fruit processing industry through customer satisfaction, food safety, consistent and high quality products.
Amley Food specializes in processing Philippine Dried Mango. We only use "Carabao Mango" Variety, which is known to be the best in the world.

There is an abundance supply of raw materials in our area. Our supply comes from the whole Mindanao island as well as our own mango orchards. This ensures a continuous yearly supply of raw materials to our plant.
We offer dried mangoes, dried green mangoes, dried pineapple and dried coconuts processed according to customer specifications, packed with their own logo and printed in their own language.
There is a high market demand in processed fruits especially the Philippine Dried Mango. Our team of experts are constantly researching and developing new product lines.
Food

Safety

Policy
To provide customer with safe and high quality products and on time delivery by following a standard system that conforms to the legal requirements and mutual agreement on both buyer and seller.
To continuously improve our products and services to get customer satisfaction.
Certifications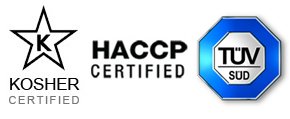 We are one of the top socially conscious, profitable and technologically up to date food processing companies in the Philippines. We manufacture and export quality food products that caters to the international and local consumers. The company is Kosher and HACCP certified.